Tours to Church of the Savior on Spilled Blood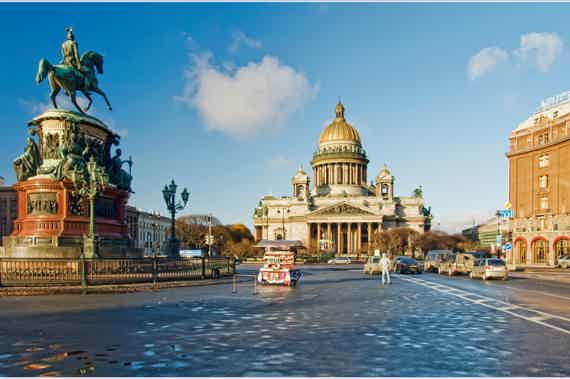 Private tour of St. Petersburg
Indiviual tour of St. Petersburg based on your wishes. Any time and any day you want.
Excursion to a safe high-altitude roof
We have a guaranteed support of the government of St. Petersburg, the Ministry of Emergency Situations, and supervisory bodies. The best city guides, experienced climbers and instructors are ready to make your stay on the roof interesting and safe.
Two-day individual tour: The Hermitage and Saint Petersburg downtown
On the first day we are going visit the Hermitage and walk around the surrounding area. After that (if you feel like) we might visit several famous St Petersburg cathedrals...
tomorrow at 17:00
tomorrow at 18:00
I have booked Igor for a second time for another two day individual tour (2016 and 2018). It was like visiting an old friend again, and am very thankful to him for tailoring my trip again, and building upon what we saw in 2016. This time we visited the areas outside the main tourist sites - we visited the areas associated with Soviet History, the Siege monument, various metro stations. The main reason for my trip was to run in the marathon, and Igor tailored my trip to pick up my racing number from the stadium. We also visited a newly built exhibition (built in 2018) on the history of Russia - This was awesome! and would recommend you take a trip there. We also visited the main football stadium in St P (new Zenith stadium which was used during world cup) - this was impressive. I really enjoyed taking the buses around the city with Igor, as a solo tourist who does not speak Russian, this would not have been possible alone. Igor is such great value for money, and would I definitely book him again if I return to St Petersburg. .................................................................................................................................... (My 2016 review) I really enjoyed my tour to St Petersburg with Igor. He was able to tailor my tour to include a comprehensive historical tour of Dostoevsky's St Petersburg. The tour was very detailed, yet flexible. St Petersburg is a great city with so much history, I plan to return again one day.
over 6 years ago
Very " rich" tour ; very complete ; our guide was very well informed except about the museum opening hours ... ;-) but he had so many other informations to share .. that was fine. It is a very long day... very good shoes are requested ! but walking is such a nice way to discover the town..
about 7 years ago
Show more
The catalog contains 4 tours to the Church of the Savior on Spilled Blood in St. Petersburg with a description, prices and reviews of tourists. The cost of excursion programs and guided tours in St. Petersburg from 1500 ₽. Read about the sights, choose the best route, see the schedule for march-april, 2023 year and buy tickets online!
When registering on the site and subscribing to the interesting travel newsletter - 5% discount.
Sights of Saint Petersburg