Tours and tickets to Peter and Paul Fortress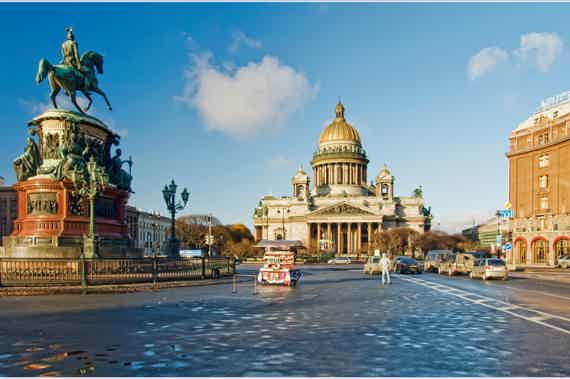 Private tour of St. Petersburg
Indiviual tour of St. Petersburg based on your wishes. Any time and any day you want.
Beautiful Saint-Petersburg of Peter the Great.
We will see 2 monuments to Peter the Great, the Admiralty, the territory of the former Port, look at the building of the University and the Academy of Sciences, you will find out about the Kunstkamera - all these places are connected with the name of Peter 1...
tomorrow at 10:00
tomorrow at 11:00
Private sightseeing tour with a personal guide through st. Petersburg
Individual sightseeing tour with a personal guide through st. Petersburg St. Petersburg amazes not only with its architectural grandeur, but also gives rise to feelings of beauty among many people. The arrow of Vasilyevsky Island in St...
We were very impressed with Diana as our guide to St. Petersburg. She is knowledgeable, professional and polite. She was also very helpful with our requests. She made us very comfortable, and we really loved to study and admire the history and beauty that the city has to offer. We highly recommend it to anyone who wants to have a great experience with this city.
over 3 years ago
Wow, what a great experience. Our guide couldn't have don a better job. Not only did she do a great job showing us the sights of St. Petersburg , but she gave us restaurant recommendations and helped in any other way she could. Great job
over 3 years ago
The two-day tour in St. Petersburg was excellent! Leonid is an exceptionally professional, with extensive knowledge of history, culture and the world. And he has a great sense of humor! Highly recommended!
almost 4 years ago
Show more
The catalog contains 4 tours to the Peter and Paul Fortress in St. Petersburg with a description, prices and reviews of tourists. The cost of excursion programs and guided tours in St. Petersburg from 4000 ₽. Read about the sights, choose the best route, see the schedule for february-march, 2023 year and buy tickets online!
When registering on the site and subscribing to the interesting travel newsletter - 5% discount.
Sights of Saint Petersburg