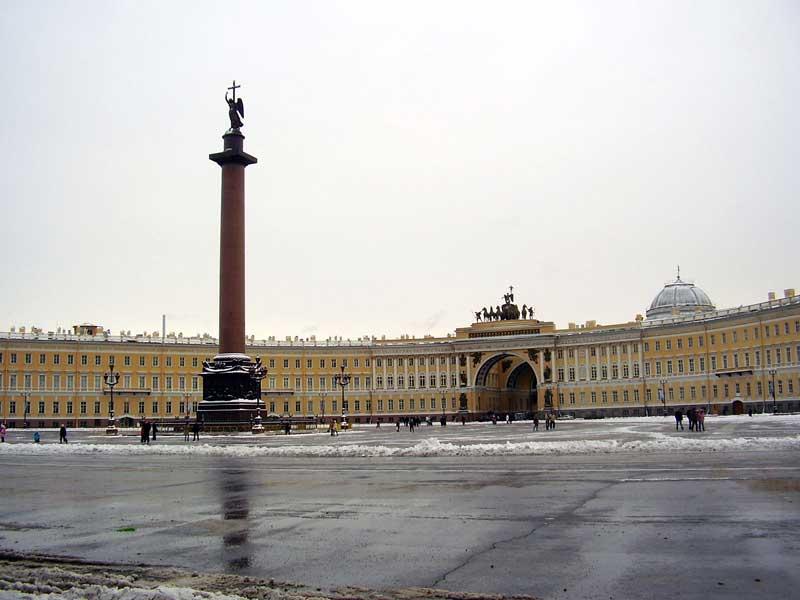 St. Petersburg Tour: Three major city squares
4 hours
Private
E-ticket
English
My time as a tour guide
Гарантия места
Можно оплатить банковской картой на сайте или наличными в офисе в Петербурге
---
Хотите ли вы пойти на экскурсию?
Да, запишите меня
Да, но не хочу платить заранее
Да, но не доверяю интернет-платежам
Да, но не доверяю этому сайту
Нет, дорого
Нет, неудобное расписание
Нет, мало информации и фото
Нет, просто смотрю
Enjoy the beautiful ensemble of three major city squares, which are located back to back to each other, it is the only "block of squares" in the world.
You will not only see every major official building, such as the Hermitage, Admiralty and St. Isaac cathedral, but also will be able to hear out the stories of their construction, including their earlier versions. By "peeling off" different layers of each historical building you see how they were gradually constructed to play their unique part in perfect harmony of a complete ensemble. Find out who built this spectacular ensemble, for whom it was built and under what circumstances, only then you'd be able not only look at it, but really see it.
And if that's not enough and weather permitting, take a boat ride along the channels to see it all from the vantage point of water level or climb up to the colonnade of the third biggest cathedral in Europe, St. Isaac's, to have a bird's eye view.
(The price of the tour includes my time as a guide only. Extra expense such as entry tickets boat ride etc. are not included into the price, you have to pay your own way and admittance fee for me if you want me to accompany you inside)
Price
| | | | |
| --- | --- | --- | --- |
| Regular ticket | | 1000 ₽ | per person |
What is included in activity
What is not included
Entry tickets and admmition price
What places will you see
Palace square, St.Isaak square, Decembrist square, Bronze horseman monument, Neva embankments, Hermitage, General Staff building, Admiralty St.Isaak church
Activity book period
You can book tour up to 36 hours in advance.
Languages in what activity is performed
English
Directions to meet your guide
I will pick you up at your hotel or city port area
How long your tour will be
4 hours
Есть вопрос? Вы можете задать его организатору
→




St. Petersburg Tour: Three major city squares
Tags:
Отзывы путешественников
0
No reviews yet
Reviews of other tours by Ribin
Igor was very knowledgeable- extremely knowledgeable about Russian history. He was well organized and knew exactly where to take us. It was a busy schedule and we walked lots but we felt like we saw and learned so much. We wouldn't hesitate to recommend Igor as a guide. His English by the way is fantastic!
9 months ago
Igor is a treasure of knowledge and able to raise to your level. If you don't need the the basics, but are able to take if from there, he's your guy.
12 months ago
Very informative and interesting. A good mix of history and art. Will recommend it.
about 1 year ago
Igor Ribin was our guide in Saint Petersburg and he took us literally everywhere.
His knowledge of Saint Petersburg is extensive and he was happy to adapt his tours to our interests.
His Hermitage tour is amazing in respect of his detailed knowledge of the art and artifacts in this remarkable museum. You definitely appreciate having a guide.
Igor also guided us at the the Hermitage Storage Facility, this is a fabulous off the beaten track must see in Saint Petersburg and the assistance of a professional guide such as Igor will help greatly.
We would recommend Igor Ribin as a Saint Petersburg guide, particularly his walking tours and go with his suggestions you will really discover a lot of interesting places.
Thanks Igor we had a wonderful time.
Helen & Andrew
over 1 year ago
Igor is simply fantastic. He might look stern at first sight. But he really is a caring and knowledgeable guide. One of the best guide I have ever engaged.
almost 2 years ago
We were fortunate to book Igor for a two day hermitage and city tour. We learned so much, covered so much ground and enjoyed the experience that we booked Igor for another day to Peterhof and Catherine's Palace at Pushkin.
Igor is in himself a quintessential Russian experience. His passion for his craft, the history of his city and the landmarks know no bounds. As an Australian, Igor looks, sounds and acts like what we would believe a typical Russian would be, stern, forthright and a sense of humour as dry as a dead dingoes donger. Dressed partway between Sherlock Holmes and a university professor you scuttle along after him, keeping up with his long stride as he talks verbatim into a microphone connected to your own earphones. 'We've got a lot to cover today' he chimes, 'so lets get cracking!'
I've always hated the wasted time that goes with group tours, Igor – not only removed any wasted time with us, but we covered more in one day (albeit we were beat!) than a two day group itinerary. All on foot.
If you are after lots of laughs, morning, afternoon tea, long lunches and commercial recommendations then Igor is not your man. If you are after a jammed packed experience, with each landmark contextualised with time and place, a story woven between them, fact based descriptions that enable your own imagination to go back to that era, and the occasional quiz to check you've been listening – then Igor IS your man.
We thoroughly value our travel experience with Igor and highly recommend him not only to generalist travellers like ourselves but those interested in specialty components of St Petersburg history – such is his depth he can tailor a super experience to suit. Oh and he is REALLY good value too!
Thanks Igor for making our experience in St Petersburg unforgettable!
almost 2 years ago