8 (812) 407-36-52
Ежедневно с 9 до 21 по Москве
Оплата наличными и онлайн
Бесплатная отмена за 72 часа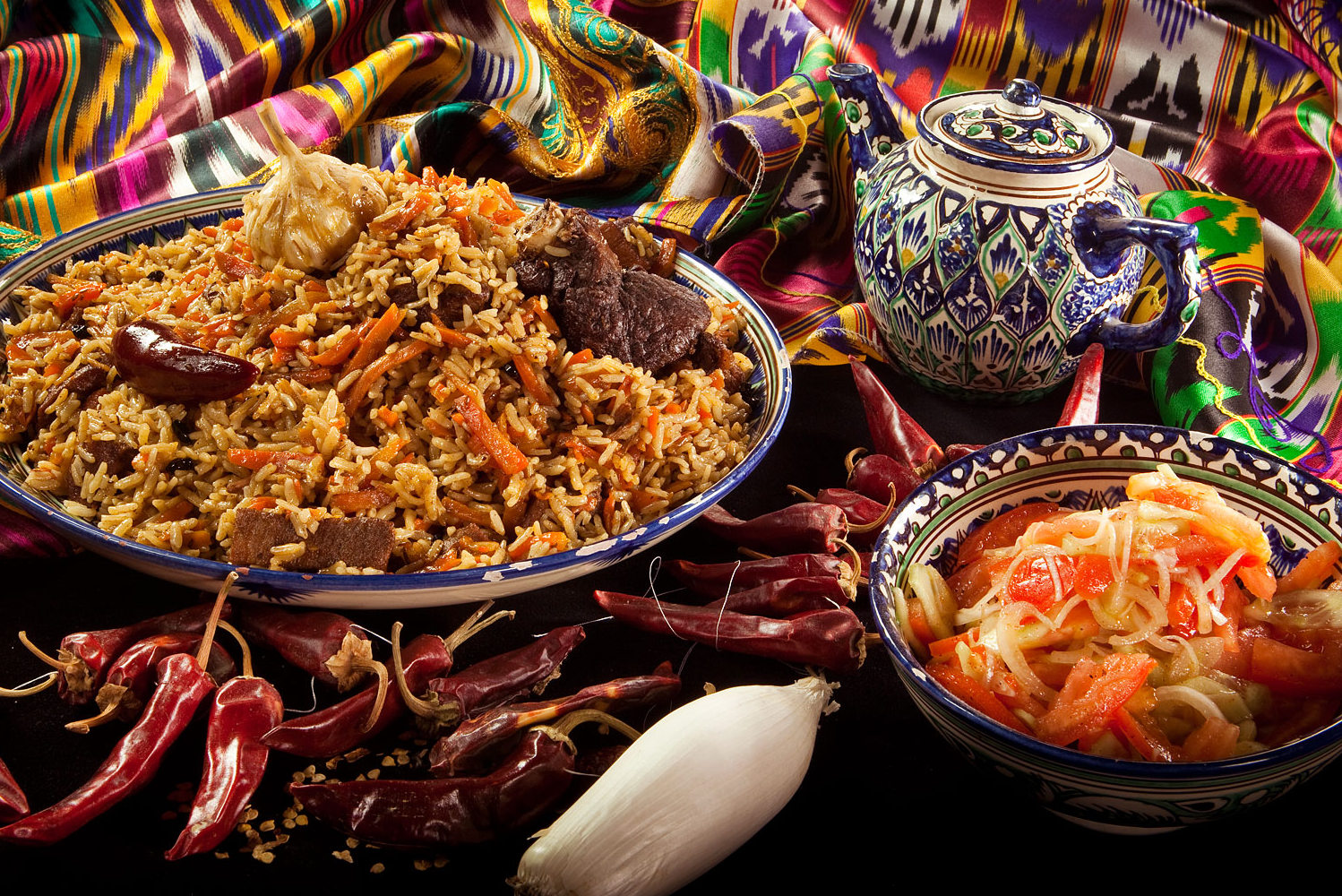 Introduction to Uzbek food on Vasilievsky Island
---
E-ticket
English / Русский язык
– visit of local market
– stories about Central Asia, Uzbekistan and Uzbek people in St Petersburg
Гарантия места
Можно оплатить банковской картой на сайте или наличными в офисе в Петербурге
---
Я хочу рассказать всему миру о тех прекрасных блюдах, которыми славится узбекская кухня: <i> плов, лагман, чучвара, самса </i> и прочие! И не просто расскажу, но и накормлю в правильном месте. Это не экскурсия в классическом ее виде, а скорее путешествие в узбекский Петербург.
---
Хотите ли вы пойти на экскурсию?
Да, запишите меня
Да, но не хочу платить заранее
Да, но не доверяю интернет-платежам
Да, но не доверяю этому сайту
Нет, дорого
Нет, неудобное расписание
Нет, мало информации и фото
Нет, просто смотрю
About the tour on
English
Well. I love food therefore the countries where the food culture exists.
One of these countries is Uzbekistan for sure.
There is huge community of Uzbek immigrants in St. Petersburg.
During the tour I will tell you stories about Central Asia and Uzbekistan.
We will visit local market with traditional Uzbek bakery and Central Asian shops.
Finnaly we'll go to a local Uzbek chaikhana. Don't expect a fancy restaurant. The place is mostly popular among immigrants.
I want to show you ti try very authentic Uzbek food: plov, lagman, manti and many many other dishes.
I'm originally from Kazakhstan. And I know how it should taste like.
Food is quite cheap. You will be very full for 500 roubles!
I live and work nearby, so I can conduct a tour any time.
Just message me.
p.s. all meals contain meat, no vegetarian options.
Price
Regular ticket
Offer for 1 person
1500 ₽
per person
Offer for group of 2-4 persons
1000 ₽
per person
What is included in activity
– visit of local market
– stories about Central Asia, Uzbekistan and Uzbek people in St Petersburg
What is not included
– food costs around 500 rub per person
Activity schedule
every day around 13.00 except Monday
What places will you see
- Andreevsky market and traditional Uzbek oven
- traditional Uzbek chaikhana
Activity book period
You can book tour up to 8 hours in advance.
Languages in what activity is performed
English, Russian
Directions to meet your guide
Vasileostrovskaya metro station
How long your tour will be
1 hour 30 minutes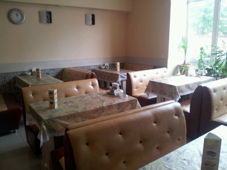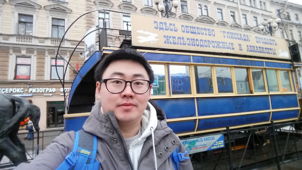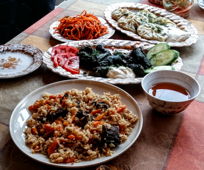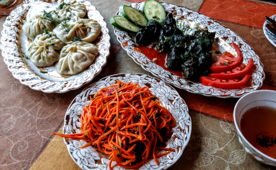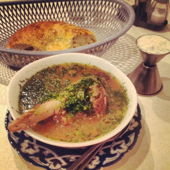 →




Introduction to Uzbek food on Vasilievsky Island
Tags:
Introduction to Uzbek food on Vasilievsky Island - customer reviews
Imran.ak, Saint Petersburg, Россия
July, 9 2018
Great introduction to the culture and food to the central asian peoples. Alexandr is great guide and host.
Susanmig, United Kingdom
October, 10 2017
Alex was very good and informative he explained with use of pictures and maps about Russia and the surrounding countries and of course Uzbekistan. It was very interesting and it helped us understand the area and the history of the regions much better. The meal was wonderful our compliments to the chef and the restaurant owner was a delightful man. Keep this trip on your books as I am sure many future visitors to St Petersburg will enjoy it. We certainly did. 😄
Van A., Brussels, Belgium
August, 18 2017
Not only knowledgeable, Alex was very nice and understanding. Due to the long waiting at the custom control, I arrived the meeting point later than expected but the group was still waiting for me. Definitely a must-do tour.
Mengmeng, Netherlands
August, 7 2017
Alex told me a lot of things related to central asia, I didn't know anything before so it was quite an experience. The uzbiek food is great, it is very similar to the food xinjiang province in China, I enjoyed a lot. After the trip he also gives me information about the city. I really like this trip!
Pirjo F., Таллин, Эстония
July, 10 2017
We had a great afternoon!
Agatha a., Bassersdorf, Switzerland
April, 24 2017
Jorik, Arnhem, Netherlands
January, 1 2017
Aleksandr was like a window on central asia. He tells you about the people through the delicious food that is on offer on the market and a small market with handlers and products from the region. Combined with his smile and open mind he makes a great guide. If you are looking for a rather different view on st Petersburg this is wortwhile.
Jorik
(The Netherlands)
Sofiya,
November, 28 2016
Very unique and interesting tour about Uzbek and not only, comprehensive introduction, market visit and tasty lunch at Uzbek restaurant. Very good knowledge of Uzbek history, culture and present. Many thanks to Aleksandr for tour.
Nick R., Россия
August, 20 2016
Very good, thorough knowledge and willing to answer all my questions.

Reija Y., Helsinki, Финляндия
May, 2 2016