Creative spaces in Saint Petersburg
I'm Olya Polyakova. I'm not a tour guide but social entrepreneur and activist working or relating with creative spaces and modern culture scene since 2012. I used to run a flower workshop in one place in 2012, then organized charity and social events there in 2013, then I worked there with communications. It was called 'Chetvert' and it was closed with a huge media buzz by the owner so we became kind of a legend. Then we run an art space with modern art galleries and pop-up cafe in old garage for summer 2014. Now my projects use to change locations and I still know everything about creative spaces in Saint-Petersburg.
The tour is flexible according to the weather, your interests and events happening in the places. We might see the oldest art-center squatted by underground artists and musicians in early 90's, 10 year old space in the former bread factory, designers spot and modern creative spaces. I'll tell the last history of creative spaces, recommend some design shops and cozy cafe and bars. We can visit some exhibitions and sometimes events, try local streetfood. I will give you extra contacts and recommendations based on your interest. So I'll be your local guide in the scene. And we'd discuss politics, globalization and try to find something unique behind the global trends.
Dear tourists, I can't be available every day to host a tour so please don't pay for it until I confirm it with a customized (not automatic) letter.
If I can't host a tour I'd suggest you to explore yourself:
Techno bars&clubs in former horsestables http://mosaique-space.com/, https://www.facebook.com/stackenschneider and non-techno Tancplowadka (weekend after midnight)
Eat and have beer in the artsy yard: Kovenskii, 14, second yard (from midday till 9 p.m.)
Design shops and bars Fontanka, 20, inside the yard (anyday, second half of the day, try something in 'Treska' bar, chill in Ziferblat)
http://www.p-10.ru/en/, early postsoviet squat, any day
http://www.loftprojectetagi.ru/en/, old and hot spot, crowdy now
https://streetartmuseum.ru/, schedule on the website, strongly recommended
Price:
Ticket
Offer for 1 person
2200 ₽
per person
Offer for group of 2-15 persons
1400 ₽
per person
Activity book period:
You can book tour up to 24 hours in advance.
Languages in what activity is performed:
English
Directions to meet your guide:
Grazhdanskaya, 13-15, in the yard
How long your tour will be:
3 hours
Show full description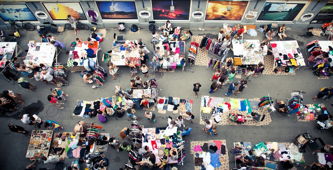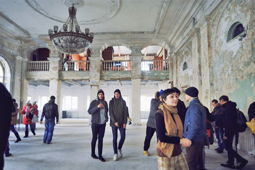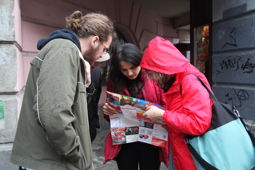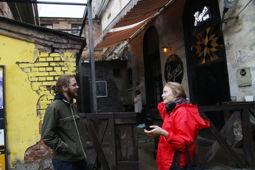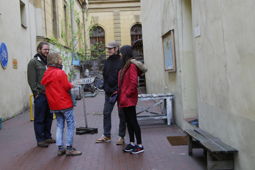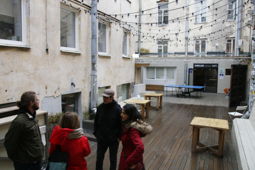 ---
Creative spaces in Saint Petersburg - customer reviews
Crrmmm, Portugal
March, 12 2018
Another side of St Petersburg: the liveliest and enriching side.
Hanna.su, Helsinki, Финляндия
November, 21 2017
A unique and interesting tour for all those who want to see also other things than the main touristic attractions. Olya is a great and enthusiastic guide, who also gave us other tips for the rest of our stay. Warmly recommended!
Tammy, Израиль
September, 7 2017
Sydneytr, Россия
August, 4 2017
We had an amazing tour with Olga :) she is a lovely guide and even better person ! She provided us with tons of information and tips we never would have found out about by ourselves. We've already been back to some of the places she showed us and they were great ! Thanks again ! <3
Marylene B., Canada
August, 3 2017
Idéal pour prendre le pouls de cette ville en pleine effervescence artistique. Olga est formidable! je recommande chaudement cette visite!
Maureen0, Summerfield, США
July, 21 2017
We had the most amazing tour of creative usages of spaces. Olya was a wonderful guide. Insightful and fun, knowledgeable and clever. We would go back again for more!
Iriscai1, Brussels, Belgium
April, 30 2017
she is a great tour guide and give me many special information. If you come to st peterburg don't miss her tour!!
Lorettan, London, United Kingdom
September, 20 2016
This was a very nice tour. Olga is so involved into everything going on that you really get a taste of the "alternative" life in Petersburg. Highly recommended. Also the process/ contact etc. is very straight forward.
Nanda, Rio, Brazil
August, 30 2016
Awesome way of discovering a new side of St Peter and getting in touch with the local creative industry. Olya is a great guide and really knows her ways around the creative spaces :)
Isabel.p
September, 19 2015
Olya is a great tour guide! She showed us places that we never would have found on our own in St. Petersburg, and introduced us to the fascinating art scene. She is very knowledgeable about the art scene, and all sorts of events going in in the area connected with it. Very soon after the tour she sent out links to the places we visited, as well as additional information that we discussed on the tour. She's very friendly and interested in getting to know you. This was a great tour and I'm glad we got to see some of these spots.