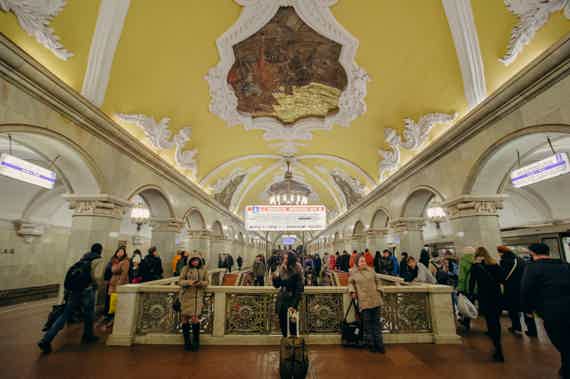 Moscow Metro and "7 Sisters" (Stalin's Skyscrapers)
Go beneath the streets on this tour of spectacular and mind-bending Moscow Metro. Be awed by the architecture, spot the propaganda, and listen to the Soviet stories from a local in the know...
You will also be interested
BliniReizen
over 8 years ago
Blini Reizen is a Dutch touroperator who offers trips to the former Soviet-Union. We always advise our clients to book excursions with a local guide: to view the country and it's people with different eyes and to get information they otherwise wouldn't get to know (easy). Two of our travellers (2 sisters, who had a special reason to visit Moscow), found Olga's tours at this website and decided to book 4 of them through our agency. They were happy with both the tours and the guide, I quote: "the first two days we had Olga as a guide. Punctually she picked us up at our hotel. A funny, friendly and flexible girl with humor, who speaks English very well and knows a lot to tell about history, art and tourist locations. She also told us a number of anecdotes. She showed us very nice places and restaurants that we would never have found without her ". Af for Blini Reizen: we found Olga very pleasant to work with: she is accurate, flexible, cooperative, interested and always tried to find the best solutions for the clients. We would surely recommend this tour! See also the review left by the 2 sisters (PV).
My sister and me visited Moscow for a few days and decided to book this tour with Sputnik. We were not really sure what to expect, but it turned out to be fantastic! Olga is a very good, dedicated and enthusiastic guide with a lot of knowledge of Moscow. Olga tells much more than just the regular stories. Also her english is excellent! Besides this tour, we also booked the "modern art" - and Kremlin tour. Again, guided by Olga! We had a great time!