Survival Russian Language Walk
---
E-ticket
English
Гарантия места
Можно оплатить банковской картой на сайте или наличными в Евросети или Связном
---
During our Survival Russian Language Walk I'll guide you through most "routines" every tourist encounters such as: - buying a souvenir / cup of coffee or tea / snack, etc. - asking for directions - places of interest/ stations/ airports/ etc. - escaping from annoying bums/ zombies:-)
---
Sign up for tour
This activity is not available any more. Please try other activities.
Хотите ли вы пойти на экскурсию?
Да, запишите меня
Да, но не хочу платить заранее
Да, но не доверяю интернет-платежам
Да, но не доверяю этому сайту
Нет, дорого
Нет, неудобное расписание
Нет, мало информации и фото
Нет, просто смотрю
PRIVET!
So you've got to Moscow. I'm really glad to see you here!
Congrats! But... very few locals speak English and most of the signs around are written in Cyrillic... No panic! Andrew is here to help you:-)
Btw, did you know, that Russian language belongs to the same Indo-European family as majority of European languages? In fact there are tons of Russian words equivalent to English ones, transcribed with Cyrillic letters ... well, alright, sometimes they may sound slightly distorted:-).
During our Survival Russian Language Walk I'll guide you through most "routines" every tourist encounters such as:
— buying a souvenir / cup of coffee or tea / snack, etc.
— asking for directions — places of interest/ stations/ airports/ etc.
— escaping from annoying bums/ zombies:-)
And of course I'll answer all your question you might have.
You'll learn:
— basic super-useful everyday phrases like "Yes", "No", "Hello", "Bye", "Thanks", "What's up?", "How to ... ?", "I am a foreigner/ tourist/student/ ...", "Is there a discount for ... ?", "I love you", "You are beautiful":-) and many more!
— to introduce yourself in Russian.
— to interact with staff at cafees, shops and public transport in Russian (we'll practice and I'll guide you through the process).
— to save money by using really cheap public transportation and see more sights!
— anything you would like — just tell me what you want to know;-)
As a BONUS you'll also get:
— Unique reference ABC card where every Russian word, serving an example of letter is equivalent to the English one, sounding similarly.
— Historical reference on architecture surroundings (upon request).
— Traditional candies or cookies.
— Free smiles:-)
No worries, Russian Cyrillic alphabet is more or less similar to Latin; nonetheless, sometimes letters are marked differently. As a practicing language tutor I've got my very own methods of teaching Russian alphabet — check it out here: (http://dexilen85.wix.com/abcbook).
Price:
Activity book period:
You can book tour up to 36 hours in advance.
Languages in what activity is performed:
English
Directions to meet your guide:
How long your tour will be:
1 hour 30 minutes
Show full description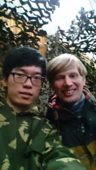 Survival Russian Language Walk - customer reviews
No reviews yet
Reviews of other tours by Andrey
Our individual tour with Andrey was great. In the days leading up to the tour he was extremely prompt and helpful with providing suggestions forwhat wewould wantto see he in Moscow. Our tour provided a real locals perspective on Moscow.
over 3 years ago
Riding the Soviet T-55 tank followed by shooting the legendary Kalashnikov AK-47 rifle...need I say more? From picking me up at the railway station on my first day, taking me to my hotel, showing me how to buy tickets at the Kremlin, among other activities I proposed, and, of course, organizing the tank ride and the AK-47 shooting, Andrey exceeded all of my expectations. I was able to see everything I wanted to see and experience everything I wanted to experience. In addition, as I was also going to St. Petersburg and didn't know anyone there, Andrey hooked me up with a friend who provided airport pick up among other things.
All in all, this trip was one of the best trips I've made in my life. If you're going to Moscow and looking for a custom-tailored tour or something off the beaten paths, you can count on Andrey to make that happen!
Spasibo Andrey!
over 3 years ago