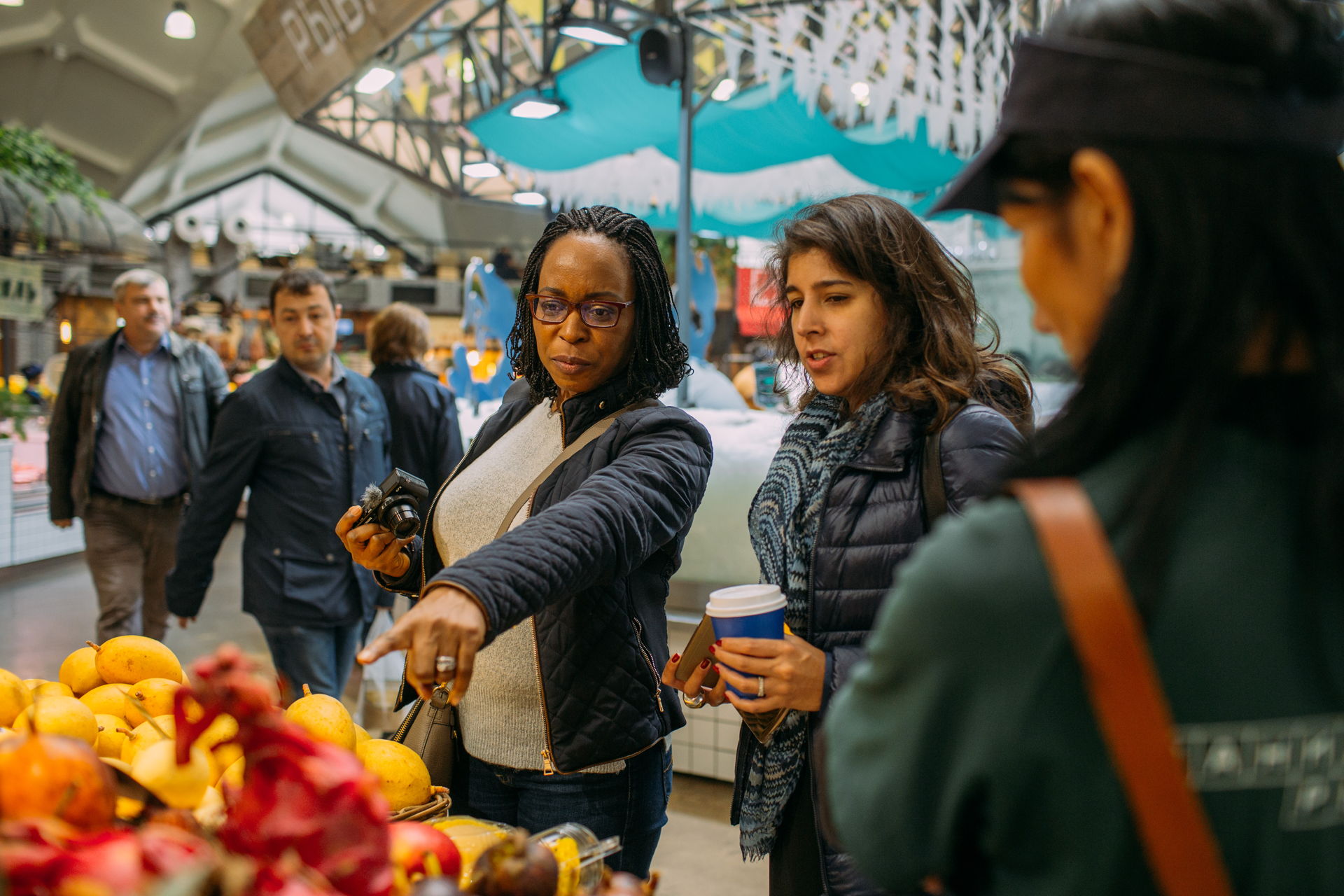 Eat Like a Russian Tour
2 hours 30 minutes
Group пешеходная
E-ticket
English
Гарантия места
Можно оплатить банковской картой на сайте или наличными в Евросети или Связном
---
Get ready to eat like a Russian on this delicious foodie tour of the Danilovsky neighbourhood in Moscow. Check out the bustling local market and discover what Russian cuisine is all about, find out what locals like to eat on special occasions (spoiler alert — caviar is involved!) and take a trip down memory lane to discover the foods of countries that once belonged to the USSR.
Хотите ли вы пойти на экскурсию?
Да, запишите меня
Да, но не хочу платить заранее
Да, но не доверяю интернет-платежам
Да, но не доверяю этому сайту
Нет, дорого
Нет, неудобное расписание
Нет, мало информации и фото
Нет, просто смотрю
Tour Highlights:
— Explore the colourful Danilovsky market with a local
— Taste some of our favourite Russian cuisine
— Try tvorog, a deliciously traditional dairy treat
— Discover more about the diverse range of people who live in our beautiful city
— Visit an off-the-beaten-track neighbourhood and see how locals live day to day
Route & Description:
Our tour begins in the little-known Danilovsky district of Moscow, which is home to one of the most prominent examples of constructivist architecture in the city. Parisians have long argued about the beauty of the Eiffel Tower; the Muscovites have polarised opinions about the Ship House.
Having learned a little about the lives of locals here as we walk, we'll arrive at the tastiest part of our tour — the food market — and this particular one attracts both trendy chefs and savvy locals alike. Our degustation menu for the day will include sour, spicy, cheesy and sweet treats for your delectation. We hope you're hungry!
We'll start with nature's bounty: Russian honey served with herbs and berries. Next it's on to appetisers and you'll try the freshest cheeses and curd from the Caucasian region. You'll be surprised by the number of milk products Russia and other countries from the former USSR used to consume every day.
You'll then try juicy tangerines from Abkhazia if it's winter or delicious apples in summer from the gardens around the city.
Then it's on to two proper Russian delicacies. First is smoked lard, which sounds a bit odd to the western palate, but trust us, it's rich, fulfilling and delicious! Then, red caviar from the island of Sakhalin, an absolute must-eat while in Moscow.
Next we'll time travel to the Soviet era to take a peep at a typical kitchenette with stripped tablecloth, cut glass and toffees for children, plus plenty of jars of pickles and homemade jams. You can then taste the secret cure to every Russian's hangover, salty cucumbers and sauerkraut. After these salty delicacies, a Kvas or fruit-drink will banish your thirst.
We'll then head south to explore our favourite dishes from Uzbekistan and Dagestan, pilaf and chudu (scones) with cheese or pumpkin, finishing off with tea and pies. We recommend the sweet pie with poppy seeds. Yummy!
Happy and full, you'll be guided to the metro station or you can of course stay and shop for tasty souvenirs too! Don't forget to ask your local guide for tips on what else to see, do and where to eat during your stay in magnificent Moscow.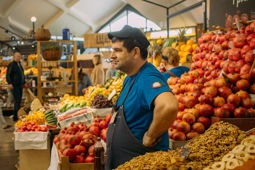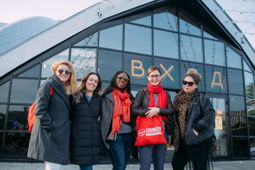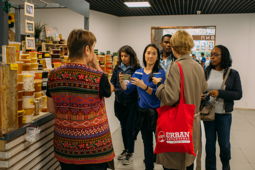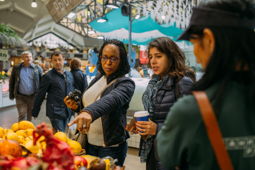 Price
| | | | |
| --- | --- | --- | --- |
| Regular Ticket | | 3600 ₽ | per person |
What is included in activity
Local English-speaking guide, all food and drinks mentioned in the itinerary (local honey, a local diary product, a local seasonal fruit, red caviar, smoked lard, pickled cucumber, sauerkraut, pilaf, chudu, pie and tea). If a dish is not available on the day, it will be substituted with a similar and equally delicious product.
What is not included
Additional food and drinks, souvenirs and personal shopping, tips/gratuities for your guide
What places will you see
Danilovsky Market & House - Ship
Activity book period
You can book tour up to 15 hours in advance.
Languages in what activity is performed
English
Directions to meet your guide
Main entrance of Danilovsky Market, sign "ВХОД"
How long your tour will be
2 hours 30 minutes
Отзывы путешественников
0
No reviews yet
Reviews of other tours by Olga
We are very grateful for your hospitality during our visit to Moscow. We all enjoyed seeing the beautiful and interesting sights there, especially those gorgeous Museum and perfect local tours.
Thank you very much for sharing the unique culture and history of Russia with us. The food was definitely one of the highlights of our trip. We feel very fortunate to have tasted those traditional Russian delicacies, and so do the perfect vodka we have ever tried.
almost 3 years ago

I don't know where to start ...
We met on a stormy winter day charming girl dressed a pink coat. She took us on a fascinating tour of galleries and walls of graffiti,designers studio's and introduced us art scene of this amazing city.The area was once a wine factory and have a lot of fascinating spots and cozy restaurants.The guide was very professional and smart. We had a good time walking the streets of Moscow and revealing secret spots that you'll never get there alone.
After all she left us a lot of recommendation for our next days, including the most trandy restaurants and interesting places to visit.
Highly recommended tour for those who interested to see real Moscow.
about 3 years ago
It was a great experience I would recommend it to everyone!
over 3 years ago
Olga was great and this was an awesome experience. She was friendly and interesting to talk to, and walked us through the different dishes step by step. She also did the hard prep work for some of it before we got there so we had plenty of time to finish up and sit down and enjoy the meal. The recipes and some additional information we talked about were emailed to us soon after our cooking class. Olga also helped me buy tea at a nearby shop for someone who requested it. We had a great time and hope to find ourselves in Moscow again to do another tour with Olga.
over 3 years ago
My mother and I enjoyed the Russian cooking experience with Olga in December 2014. She is welcoming, accommodating and SO much fun. I enjoyed learning about Russian food and culture from a native, and even my 60-year-old mother felt at home with Olga. It felt like having dinner with an old friend. I would recommend her tours to anyone in Moscow!
about 4 years ago

Blini Reizen is a Dutch touroperator who offers trips to the former Soviet-Union. We always advise our clients to book excursions with a local guide: to view the country and it's people with different eyes and to get information they otherwise wouldn't get to know (easy). Two of our travellers (2 sisters, who had a special reason to visit Moscow), found Olga's tours at this website and decided to book 4 of them through our agency. They were happy with both the tours and the guide, I quote: "the first two days we had Olga as a guide. Punctually she picked us up at our hotel. A funny, friendly and flexible girl with humor, who speaks English very well and knows a lot to tell about history, art and tourist locations. She also told us a number of anecdotes. She showed us very nice places and restaurants that we would never have found without her ".
Af for Blini Reizen: we found Olga very pleasant to work with: she is accurate, flexible, cooperative, interested and always tried to find the best solutions for the clients. We would surely recommend this tour!
See also the review left by the 2 sisters (PV).
almost 5 years ago