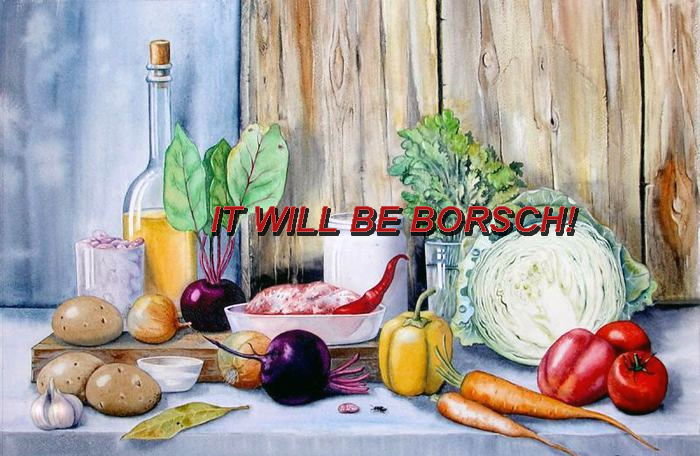 Cooking tour in Soviet Dacha with interactive excursion
3 hours
Private
E-ticket
English
Transfer metro- Dacha-metro (for 1-4 person)
Learn the art of home-cooked Russian pelmen or borsch
All ingridience and recipe cards are free
Homemade snacks and drinks with pelmeny or borsch
Гарантия места
Можно оплатить банковской картой на сайте или наличными в Евросети или Связном
---
Хотите ли вы пойти на экскурсию?
Да, запишите меня
Да, но не хочу платить заранее
Да, но не доверяю интернет-платежам
Да, но не доверяю этому сайту
Нет, дорого
Нет, неудобное расписание
Нет, мало информации и фото
Нет, просто смотрю
Would you like to learn the art of home-cooked Russian borsch or pelmeni with your own hands during the visit to the real Soviet Dacha?
Within 2 hours you'll be able to create an authentic Russian food and feel the taste of being a dachnik. Depending on the season, you can collect vegetables for borsch in the garden.
After successfully preparing of all the dishes, you are welcome to the excursion in old dacha house of Soviet era.
After lunch, you are welcome to interactive excursion. You will get acquainted with the history of dachas 50 years ago and see real russian life in present. The atmosphere of Soviet period is recreated In the Dacha house. Every family in Soviet Moscow had same things, clothes and furniture. This is a unique opportunity to visit the Muscovite's country house of 50s Soviet period.
At the end of the excursion you will enjoy the meal you have made in dacha style. You will also taste Russian home-made snacks like marinated vegetables. You will have a chance to try typical Russian drinks like kvas or kompot.
My guests can also taste the samovar on the wood with Russian tea (Ivan-tea) with home-made cake and jam for extra pay.
I will pick up group of 1-4 persons at the subway station "Buninskaya alleya" and drive you to the Dacha for 15 minutes. After the excursion you will be driven back to the subway station "Buninskaya alleya". Or you can get the Dacha yourself by taxi if your group is more then 4persons.
You will find a lot of interesting stories about life in Russia, interactive with the things of the Soviet period and a lot of fun.
We have discounts for children and families.
IMPORTENT! The price depends on number of persons.
The date and starting time of the tour need to be confirmed at least 2-3 days in advance, please, contact me before booking!!!
The tour with cooking workshop takes about 3 hours.
The cooking workshop includes: all products and ingridients for the perfect Russian meal, your culinary experience, free recipe cards at the end of your lesson lunch with cooked meal.
We have discounts for children and families.
The date and starting time of the tour need to be confirmed at least 72 hours in advance, please, contact me before booking.
Price:
Group —---- — — Standart tour + Workshop
1person — — — --5000Rur + 2000Rur
2persons — — — 5500Rur + 2000Rur
3persons — — -— 6500Rur + 2000Rur
4persons —- — — - — 7000Rur + 2500Rur
Ask me for prices for other groups
Price
Regular ticket
Offer for 1 person
7000 ₽
per group
Offer for 2 persons
7500 ₽
per group
Offer for 3 persons
8500 ₽
per group
Offer for 4 persons
9500 ₽
per group
What is included in activity
-Transfer metro- Dacha-metro (for 1-4 person)
-Learn the art of home-cooked Russian pelmen or borsch
-All ingridience and recipe cards are free
-Homemade snacks and drinks with pelmeny or borsch
-Interactive excursion in the house of Soviet Dacha (1 - 12 persons)
-A lot of history of Russia and the USSR
-a lot of the history of Russia and the USSR
Activity book period
You can book tour up to 84 hours in advance.
Languages in what activity is performed
English
Directions to meet your guide
Metro station Buninskaya alleya
How long your tour will be
3 hours
Есть вопрос? Вы можете задать его организатору
Отзывы путешественников
0
No reviews yet
Reviews of other tours by Nadya

Blini Reizen is a Dutch touroperator who offers trips to the former Soviet-Union. We always advise our clients to book excursions with a local guide: to view the country and it's people with different eyes and also to get information they otherwise wouldn't get to know (easy). Two of our travellers found the "Be a guest at a real muscovite's dacha!"-tour at this website and decided to book it through our agency. They liked it very much, I quote: "Our excursion to the Dasha Nadya was fun and educational. We were warmly welcomed and even got a nice souvenir to take home!".
As an employee of Blini Reizen I arranged this tour for our clients and found Nadya very pleasant to work with: she is accurate, flexible, cooperative, interested and always trying to be helpful (e.g. finding out the best way to reach the meeting point from the hotel of clients, etc.). I would surely recommend this tour!
almost 5 years ago
Nadya has told a lot of stories about the time that her (grand)parents stayed in this Dacha. The Dacha is in the original state including furniture and clothing's!
During our visit, we had a lovely lunch and a Russian tea.
The hospitality was great!
almost 5 years ago

My friends from Brazil told me about this trip. They took the risk and bought a private tour to this Dacha house. They ordered a complete package-tour with lunch and tea from a samovar. Everything was delicious and different from the food in the Russian restaurant. The hostess speaks English fairly well, not really good, but with enthusiasm. I think, there is the only one museum of Dacha life in the world, I haven't seen anything like this museum. This is a private area, a normal dacha house, turned into a museum by the family of Muscovites. The museum contains furniture, old things and different subjects, clothes, appliances, dishes and many other items. Consider myself very lucky that I can visit to this Dacha. It is really intersting and unusual place, but only for foreigners. I spent a few hours at the Dacha with my friends, we made friends with the hostess.
And I recommend to all foreigners who are interested in life of Russia and its Soviet past to visit this unusual place.
I wish good luck to Nadya and her Dacha project.
Olga
over 5 years ago